16.11.07
New exhibition in Amos Anderson museum
That`s me in the Corner, 2007


Twisted, 2007


I have opened an exhibition in Amos Anderson museum. The exhibition is open 16.11.2007 - 9.2.2009. In the show there is one big lightinstallation and models. The main theme is unfinishness.
8.11.06
Faith




I am at the monment taking part in a group exhibition in Spain. The Exhibition is "Fokus Finland" and there is about 10 finnish artists invited. The Place is Kultur Byro Barcelona, KBB.
I made there an installation which is a collapsed roof. The title is "Faith". Above the roof there is a very strong fast and nervously moving light which makes chancing shadows into the corridor space.
8.11.06
Gridlock




I have made new public work to city of Vaasa in Finland. The name of the work is Gridlock. The work is a huge moving shadow on a white wall of a blockhouse by the walking street. The shadow is made by lighting with a special strong lamp the ironwire mesh model which is installed on a metal pilar. The ironwire mesh is moving slowly with a electric motor.
22.10.06
Hammarby Atr Port / Candyland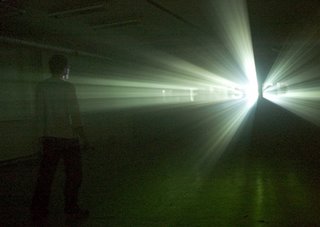 I am now working in Stockholm for the next 2 months. At the end of the period I will make an an installation with my wife Helena Hietanen into a new space run by Artistgroup Candyland. The new space is called HAP and it is located in a industrial building in Hammarby, Stockholm ( see the adress in Candyland´s homepage ). The opening will be 24.11.2006.

The name of the work is Genesis - Unfinished. We shoot a computer animated text from the Bible through a wall with holes. On the other side of the wall the text changes to many moving lights which are made visible with haze in the space.

More information:
www.hammarbyartport.com
24.9.06
3 Tasoa / 3 Levels
Olen mukana yhdessä vaimoni Helena Hietasen kanssa Anttolanhovin kesänäyttelyssä 1. 7. - 13. 8 2006.

Juuri sinne suunniteltu ja rakennettu teokseme on nimeltään: 3 Tasoa, Usva, Hämärä, Valo. Teoksen keskeisiä elementtejä ovat tilaan tehdyt valoa läpi päästavät seinärakenteet, kirkas liikkuva valo ja usva.

An istallation I made with my wife Helena Hietanen last summer to Anttolanhovi exhibition.
Materials: Moving light, wallstructures, dusk
25.8.06
Residenssi
Minut on kutsuttu residenssiin Tukholmaan loka- marraskuuksi.Kutsujana toimi Candyland galleria ja residennssi sijaitsee Malongen-rakennuksessa. Residenssiajan loputtua pidän näyttelyn Candyland galleriassa ja ehkä myöhemmin esittelen teoksiani suurimuotoisemmin Tukholmassa, paikka vielä haussa.
"
I will be in residency in Stockholm 1.10. - 30. 11. 2006. The residency building is called "Malongen" and it is arranged by "Candyland" artist group. At the end of my residency time I will have an exhibition in Candyland Gallery.
27.6.06
Espoon asuntomessut

Minulla on juuri valmistunut teos Espoon asuntomessuille. Teoksen nimi on SAMASAMA ja se on tehty peilinkirkkaasta teraslevystä ja valaistu ledeillä. Teos on kiinnitetty Kylätalo Palttinan sisääntuloaulaan korkealle ateljee huoneen ikkunan eteen.

This is my most new public work in a Kinderkarden in Espoo city. The name of the work is "SAMASAMA" and it is made from polished steel.